SCGMC is a gunpla competition held in Southern California in November. Saturday, November 14, 2015 to be exact. It is a niche model competition focusing mostly on gunpla. Other anime models are always welcomed and highly encouraged, such as Mak, Five Star Stories, Macross/Robotech, Evangelion, Votoms, etc. Anime resin figures are also very much welcomed. That said, each year, there is a special theme; this year's theme is the 1/144 City Diorama. We create the special theme each year to help push builders to explore techniques outside their sphere of comfort. There is a special award for this theme; but it is only 1 of a current listing of 11 categories.
SCGMC is about anime/mecha model building. So to promote that, we have 11 categories that spans the Gundam universe, other anime mecha, resin figures, and dioramas in general.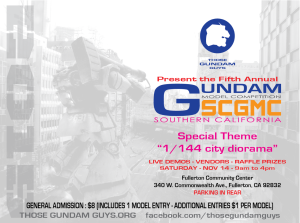 Junior (12 and under)
This year we're introducing a Junior category for modelers that are 12 and under. Many older modelers like to bring their entire families to SCGMC, so it would be great to help grow the gunpla community by starting with our youth. All scales and subjects are allowed in this category.
Beginner
This is general entry and skill level is the determining factor for this category. These are for folks new to the model building and those that may not have entered any contest and are shy about their skills. At this category, you get to compete against folks at the same level. However, once you win any award (1st, 2nd, or 3rd) you are officially above the beginner level and the next year must compete in the advance/intermediate levels. You get to choose to enter this category, but be aware that our staff are experienced modelers and will move your entry to the intermediate/advance level if they see the need to keep things fair.
The majority of the categories are going to be intermediate/advanced in skill level; but the entries are split into the following:
1/100 and Larger Universal Century
1/144 and Smaller Universal Century
1/100 and Larger Alternate Universe
1/144 and Smaller Alternate Universe
Resin Anime Figure
Mecha General
Super Deformed
Diorama
1/100 and Larger Universal Century
Taking your typical UC era gunpla kit, if it's a master grade, perfect grade, or something that is 1/100 and larger; this is the category. Gundam The Origin, Char's Counter Attack, 0080, 0083, Victory, F91, Turn A, Zeta, and everything in between at 1/100 and larger.
1/144 and Smaller Universal Century
These are UC era kits that are 1/144 and smaller. So things such as the 1/550 Dendrobium as well as the 1/144 Dendrobium fit into this category. These are stand alone or vignette entries. Entries in this category do not qualify for the 1/144 City diorama theme as they are stand alone entries.
1/100 and Larger Alternate Universe
All the 1/100 and larger Alternate Universe kits fit here, this is everything that is not UC. Wing, 00, G, X, Seed, etc.
1/144 and Smaller Alternate Universe
These are the 1/144 and smaller Alternate Universe kits. These are stand alone or vignette entries. Entries in this category do not qualify for the 1/144 City diorama theme as they are stand alone entries.
Resin Anime Figures
This is typically a smaller category in terms of entries; but the same skills used to build gunpla are employed here and these are usually anime related.
Mecha General
This is where all the other non gunpla kits will go. Anything fits here, this is a catch all for the competition. Cars, tanks, Star Wars, Star Trek, Five Star Stories, Votoms, Macross, etc all belong in this category. There are no restrictions on sizes here.
Super Deformed
This is another new category for this year. We've noticed that a good number of people build SD kits. There are SD Macross, SD Gunpa, SD figures, etc. These cute giant heads on small bodies kits now have their own category at SCGMC. So if you build SD kits, resin, plastic, etc; bring them to SCGMC.
Diorama
Dioramas have their own category. Entries here will qualify for the 1/144 City Diorama theme. The definition of a diorama is a scene where a story is being told. We require at least 2 kits that give a narrative. The settings can be anything you can think of; space, city scene, forest, mountain, desert, underwater, etc.
The categories to this point will give awards of 1st, 2nd, and 3rd; for which the following coin awards are given.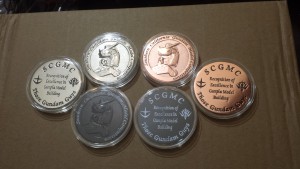 Expert
The expert category has no awards. The winner of this category gets their name and entry engraved on the SCGMC Experts plaque and bragging rights for the year.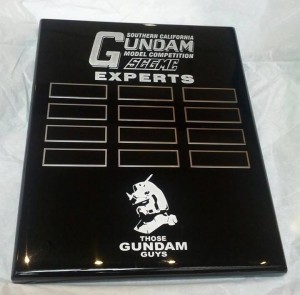 If you have won awards at any other competition such as IPMS, GBWC, or in previous SCGMC events; it is highly recommended that you enter your best kit you built that year into this category. Only 1 entry per entrant is allowed; so make sure this is your best work. There is no restrictions for the entries; the kit can be a 1/100 UC, 1/144 Alternate Universe, resin figure, diorama, etc. On a side note however, if the entry is a diorama, it does not qualify for the Diorama category; BUT if it is a 1/144 city diorama, it does qualify for the 1/144 city diorama.
What is a category split?
We've had to do this in the past. This happens when there is an overwhelming number of entries in a specific category. For instance, in the Alternative Universe category, if there is a huge number of Wing kits, or Seed kits; there is a good possibility that we split the category. If a category is split, a new category is created with their own 1st, 2nd, and 3rd place awards. Ideally, we'd like to have enough entries that all the categories get split. It would be great to have a Zeta category, 00 category, or even a build fighters category. But since it's difficult to predict who builds what each year; we try our best to have some general guidelines; but stay flexible that we can adjust according the entries we receive.
Judging Criteria
We are often asked what our judges focus on for the competition. We have a general judging guideline that our judges follow: Click here for more information about the judging criteria
Entry Forms
There are a minimum of 2 forms for the model competition. The first form is the modeler's entrant form. This form lists all the model entries build by the modeler for the competition. This is the only form with the modeler's name and is the only connection between the modeler and their model entries. This form needs to be given to the SCGMC model registration staff.
The second form is used for each model entry. There is no modeler name on this form, but a contestant number that connects this form to the modeler entrant form. This help anonymize the entries to the judges. This form has all the information about the individual entry. Please provide all the details about the model such as special build techniques used, any mods, scratch building, special paints, electronics, etc. This helps the judge better evaluate your entry and gives them a point of reference. These individual forms MUST be placed under the model entries. This tells the judges to evaluate the model on the tables. Without this form, the judges will not know the entry id/category/entrant id; so it is very important that this form is placed on the table below the model entry.
There will be a Those Gundam Guys & Friends live broadcast tonight; so if you still have questions about SCGMC, feel free to ask them tonight.
SCGMC 2015 T-Shirts!
Remember that we have the 2015 SCGMC T-Shirts available for purchase before the event. Support our event by picking a side (Feddy or Zeon) or sit on the fence and grab both shirts!