Yesterday, we headed out to Huntington Dog Beach for one of the several beach day's the group Corgi Nation hosts. Since we have three of the little monsters, we decided that we definitely needed to go. Terry is in Hawaii this week, so we dropped by his place and kidnapped Duke and brought him along. I forgot to bring my camera, but we have our phones.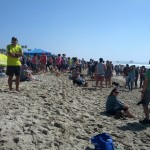 Its fun to see the personalities in our dogs come out. Kenken and Duke go running around and into the water. This is Kenken's first time at the beach so he was a little timid with the waves at first, but then realized the fun and did nothing but play in the water. Duke used to be afraid of water, but following Kenken's lead, happily played. All the while, Beanie was wandering around keeping an eye on everything, spying where people kept food, and just being the quite observant. When folks got together for the group picture, Beanie runs off and starts poking around in the various camps that are now empty of people and corgis – apparently looking for snacks. Sneaky little bugger. Hugo in his Bee costume spent the entire time walking from cute girl to cute girl getting pictures and pets from them, all the while making sure he was well away from the incoming tide and keeping me in sight. It is only when I try to sneak away that he abandons his pursuit of young ladies.
Below is a short little video I put together from videos taken on the wife's phone and camera stills from mine. Enjoy!