Its that time of year again, the weather is getting cooler, leaves are starting to fall in a swirl of yellows, red, and orange, and the smell of freshly painted gunpla fills the crisp air. For our 4th year, we are at the 1 month countdown to the greatest Gunpla event on the West Coast, dare I say, the United States. Southern California Gundam Model Competition is ONE MONTH AWAY!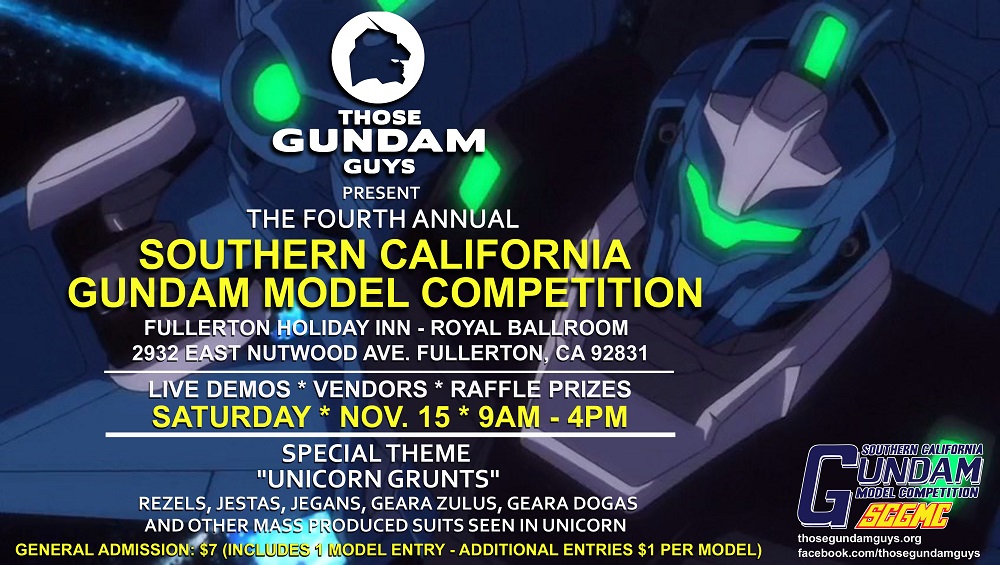 This year's theme is the celebrated Unicorn Grunt unit. This is your non descript cannon fodder that comes on the screen or in your own interpretation, fits within the time line of Gundam Unicorn… and effectively gets blasted away by one of our hero or protagonist; or even by another piece of cannon fodder just seconds before it itself is blasted away. One of the episodes brought back just about ever Zeon grunt that ever existed… so there you have it. Build your grunt, tell your story, and if it fits, we'll add the special theme tag to it and hopefully it will be the greatest grunt among all other grunts and win the presdigious top grunt award!
Raffle prizes are gathered across the globe, to include resin kits, non bandai sanctioned "gunpla" plastic, legit Bandai Gunpla, as well as shirts – so that while you're not building gunpla, you can show your support by wearing gunpla.
Aside from some the above pictures we will also have
MG Hi Nu ver Ka
MG Turn X
RE Nightingale
RG Char's Zgok
RG Gundam Exia
And many more kits donated from our generous sponsors.
We will have two vendors this year, Robot4Less as well as Tatsu Hobby.
This year's shirt design is a take off the well known Jordan, Just Do It. Except, the Nu is Jordan, and his ball is Char's Sazabi's Escape pod. So Just Build It!