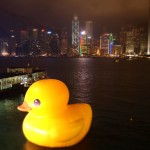 Friday, May 3 with work in Bangkok done, I woke up around 5 in the morning, packed the things I used the night prior, checked out of the hotel, and headed to the airport for my 8:20 AM flight to Hong Kong. The plan is to stay in Hong Kong for a few days before returning home, visit with some family and do some shopping for resin kits. The flight was about 2 and a half hours, for which I don't even remember taking off, as I had passed out as soon as I got situated. My neck was hurting a little because as I had fell asleep before take off, my seat back was in the complete upright position. I only became fully awake after landing. The two and a half hour nap should help me get through the rest of the day just fine.
The sky is still grey when I land, but I don't spend too much time focusing on the weather. I get through immigration and customs fairly quickly. It's nice that my luggage is loaded with priority tags. So I'm done with the airport fairly quickly. The left over baht I have isn't enough to warrant exchanging it, but I do exchange the US cash I have for HKD. There is a sign at the exchange place for prepaid SIMs and I inquire about it, but they only sell the large sized sims, not the micro sims for which my Nokia uses. Granted the other phone I had takes the regular sized sims, but it doesn't have the geocaching app on it, and I've just gotten used to using the Nokia. I get into the general area of the airport and head over to the 7-11, get a XXX Vitamin water and a prepaid micro sim for the phone. I make my purchases seperately as to check the balances on the two octopus cards I have. These RFID cards are used for public transportation and at various shops and restaurants. One has 200 left on it, and the other has 60. I put away the one with 60 as I need to return this card to my mother-in-law, then place the other into my wallet.
Sim card in hand, and finishing the vitamin water, I head to the airport express train. There's a black guy in a bow tie chatting with a black couple who have just arrived in HK, and they're discussing the differences in the dialects. Mr bow tie seems to be an expat living in HK by his manner of speaking and assumed knowledge of the native linguistics. I dismiss him as a tool that's repeating something he read somewhere. The train arrives saving me from blasting the idiot to correct his "facts" he's giving to the visiting couple. And the conversation then turns to the NBA playoffs; heh, I feel more comfortable now but still completely ignore them and take a seat on the train. While the train goes towards it's first stop, which is my one and only stop, I take the time to swap out sim cards, out with the Thai, in with the HK. Note to self: I really need to pay attention when I choose my next phone so that I can keep the same bloody phone having both CDMA AND GSM capabilities. SIM in place I text the wife my number as I haven't gotten the internet connection working yet. The card does have an unlimited internet plan, I just need to figure out how to trigger the damn thing. Txting the wife also activates the thing. Not 5 minutes after texting the wife, the phone rings, it's my mother-in-law, apparently, they've been chatting through gchat already. I get to the Tsing Yi station and get off the train. The darkies are still discussing basketball.
There's a customer service counter, so I take the opportunity to refill my octopus card with $500 HKD, that should be good for my miscellaneous as well as public transit uses. I make my way out of the MTR mall and head to the 249M bus stop. It's a good thing I only have one luggage, backpack, and laptop bag, so I'm not so awkward getting onto the bus. I'm still standing there fiddling with my phone's internet service when the bus makes a stop; I look up and don't recognize where I'm at. So I get off the bus and realize that I missed my stop by one, so I just walk down the hill towards my inlaw's flat. I give mom a call and she comes down to meet me. Dad's there as well as both of them have taken the day off because I was coming into town. The computer is on and the wife is indeed chatting, and I get some time to catch up with the previous week's events. During this time, I'm bombarded with all sorts of food, from snacks to fruits. Getting to my one luggage, I open it up and pull out the smaller suitcase I have inside and do a little bit of organization. I throw my dirty clothes into the washer as well. The afternoon was spent chatting with the wife and just relaxing a bit, it had started raining when I got to the flat and at various intervals it was pouring. I got the internet working on the phone, apparently, I needed to text in some kind of a code to subscribe to the internet service. Strange.
Jeff comes by to pick us up for dinner and we headed back to the Tsing Yi MTR mall for dinner at a Shanghai style restaurant that isn't anything to write home about. But it was nice to have dinner with the family. When we first got back into the mall, there is some kind of a miniature exposition or competition. So after dinner, my first pictures from HK are from this event. There are quite a bit of pictures so here's only a sampling.
After spending some time snapping pictures of the amazingly build dioramas – I know that I'll refer to these for future projects; we headed out and the next stop was a Taiwanese style dessert place. The place was empty, either because of the rain or because it was still fairly early. The Shanghai restaurant we were at earlier wasn't busy when we sat down, but by the time we left, there was a long line waiting there. There was some new twists on old dessert standards with some sweetened noodles made from tofu, some jelly like balls of taro and some other things. It was interesting. After dessert, we headed out to the pier area of TST. The previous day saw the arrival of the Rubber Ducky project. The weather kept the place from being overly crowded, but it was indeed crowded. We had parked a ways away, but walked to where the ducky was docked. I snapped a few pictures from various points of view.
The place was fairly crowded, but the rains have managed to keep the majority of the people away. The next couple of days, the place was inundated with people and the minature duckies were now roped off because they were getting destroyed by people riding/standing on them. We wandered to the top of a parking structure where there were only a few people and snapped some pictures from this vantage.
Having forgotten my tripod, I had to raise my ISO and deal with less then optimal conditions. But I did manage to get a few decent pictures of the rainy Hong Kong skyline.
The rest of the evening was just resting and more fruits when we got back to the house. The following day, I woke up around 8, but realistically got out of bed around 10:30. I quickly dressed and headed out. I was going to met Jeff on Hong Kong island for lunch and to just hang out for the day. My cousin Ed was going to join us as well, but not until later that afternoon. We met up and headed out to a small hole in the wall wonton noodle restaurant in Wan Chai. Food was good and afterward, we hit up some of the local shops for random things that cannot be found in the US. The first stop I picked up a few cell phone covers made of wood. We head over to Time's Square and search in vain for a spot to sit and get a drink, so Jeff and I end up getting some ice cream. Ed calls and joins us here. We head down to check out the Ironman display at Hysan Place, a fairly new shopping center. We also stumble upon the biggest Forever 21 shop I have seen to date. Yeah, the place is stupid large.
Done with the Ironman exhibit, we head to the local 7-11 and grabbed some beers, then went to the middle section of the ICC which is an open air area the in recent years, was reclaimed by the public as, public domain. Meaning, near by restaurants could no longer hold claim to the spots and these areas can now be enjoyed by everyone, for free. So with our cheap beers, we sit, drink, and enjoy the cloudy rainless outdoors. Apparently, Ed spends quite a bit of time doing this, buying cheap beers and enjoying them in nice public spaces such as this. Something runs into my neck and I slap it down, and it's a giant fly, naturally, I need to take a picture of this. I also snap a few pictures from this vantage point, oh look, it's the rubber ducky… And who could miss the massive Apple store.
Ed has to meet up with some friends so Jeff and I head back over the harbor, for this, we decide to take the Star Ferry – I cannot remember the last time I took the Ferry over the harbor. The place is crowded, which is odd for a Saturday, but then we realize that folks are all excited about the Rubber Ducky. We get on and head over. The terminal and surrounding areas are just packed with people, the roads into the parking structure we were at is queued up for at least half a mile. People really wanna go see this ducky.
Avoiding the crowds as much as we can, we head west and stumble upon an interesting colonial building that I don't remember seeing before, so more pictures are taken and it starts to sprinkle a bit.
From here, we head over to Mongkok for some model shopping. Ed finds us and I pick up a few kits that I've never seen before. I'm still in search for a nice phone case for the wife and at one of the shops, I see an orange cover with Tigger's face. Done. And yeah, I know this will just make her day and she'd be giddy about the damn thing for a while. So, whatever the cost, I spend it and put it into my bag. I also quickly find a Zeta note II case and grab that for Angel. The Samsung S4 is already out and there are cases for the damn thing. Crazy, didn't the S3 just come out not too long ago? Soon enough, the phone releases will outpace the accessory releases. Ed finds us and we head to a local cafe for dinner. I miss this style of food, the next closest place to get anything similar to this is San Francisco. After dinner, I run through some of the other known shops and to my chagrin, the G-system shop that had been here for years is now gone, ironically replaced with a Korean style fast food shop called "Gang Nam". The following picture in comparison to the google street view of the old New G shop is proof. Now I don't know if the shop has moved as some will do, or just the physical location removed as the online business for resin is where the true market exists. Still, it's sucky that it's gone.

In the area I also wandered into a shop that sells cute little dog things from Japan. They had some corgi stuff so I popped in and started looking. The owners also own corgis so as soon as they heard of my interest, they brought out every corgi related item they had. Yeah, trapped as I was, suckered as I was, I picked up a good deal of corgi related crap from a pencil holder, to soup spoons, to refrigerator magnets. Ed and Jeff had a good laugh at my expense, literally. After bending over and zipping back up, we headed up to Prince Edward part of town and found one of Ed's local bar haunts and sat down with some dice. I had played liar's dice before, but it was easily 10 or so years ago, so I suffered a few rounds of "learning the game". But back up to speed, we were soon picking on Ed as our target. Random white folks came in, which is a surprise in this part of town, but some of them joined us as well as Ed's ultimate Frisbee friends; yes, Ed plays UF; apparently, he never left college to join the real world. Well, we drink until about 1 and Jeff and I split a cab back to our respective homes.
The next morning, I get up around 11 or so, and check my phone to see that I had an email from my cousin Andrew about meeting up with the family and visiting my uncle in the hospital. I quickly get dressed and shoot them an email telling them I'll be in the area around 1:30. The wife pops online and I chat with her shortly before heading out. Not wanting to wait for the public transit, I hop in a cab, it's roughly 12 bucks for the 15 minute or so ride. So the time savings definitely outweighs the cost. My aunt is surprised that I get there so quickly, then no so much when I said I took a cab; I then think I her her mumble something about not appreciating the value of money or something. My cousin who lives in Maryland is having trouble adjusting to the lack of tipping done, and has been over tipping more often than not. We visit my uncle who is bed ridden as he's had a surgery on his throat. The surgery was successful, but he's dealing with a small bacterial infection that is not related, but causing him a fever and to extend his hospital stay. Letting him rest, we head down stairs for some lunch and I retell my stories about my wedding. Laughs had all around of course. My cousin Cecelia shows up with my niece and hang out for a bit too. I'm invited to dinner with my middle cousin Samuel and his in-laws, so I take the time to run back home to grab my ipad as my aunt wants to see some things from the wedding. Dinner was nice, but since we started at 6:00, the restaurant requires that you finish by 8:00 so they can do another round of dinners, and when it got close to 8:00 we were asked if we paid the check yet, a not so subtle hint that we should leave. Very interesting to how things are done in Hong Kong.
After dinner, I say goodbye to my aunt and cousins and then headed up stairs to where Andrew had gotten a haircut and went to get one myself. It's a small little stall with three hair stylist. Step one, pay $50 HKD via octopus card and get a hard ticket as your marker that you've paid. Step 2, wait in the queue. Step 3, give the card to the stylist, and get your hair cut in 10 minutes. The comb used is brand new for each patron, and it is offered to the patron after each cut. I declined mine and it was promptly discarded into the trash bin. Efficiency at it's finest.

Hair done, I headed back to the MTR station and headed in to Mongkok to hit up the last bit of shops that I had missed the day earlier. Unfortunately, by the time I arrived, most of them were already closed. Again, I miss hitting up the SMS shop as they were only open for a small window Wednesday – Friday, and longer on Saturdays and Sundays. There's always my next trip. Between this trip and the last, the shop had moved locations; so hopefully it'll be at the same location next time I'm in town. I did snap a few pictures.
Monday, morning, I got up early and head out to HK island to meet up with Ed and see my grand aunt, my grandmother's sister on my mom's side. We hang out there for a little while then head out for some food. Ed wanted a quick snack and I was hungry. We had plans to meet up with my cousin Danny later for what we stated as "tea" so assuming that it was what it was, a drinking session, I felt the need for something a little more substantial than a snack. I take Ed to Mongkok and we grab some Hot Star large Fried Chicken; Ed's never had this and is quite impressed. Chicken flavored MSG goodness.

Then meeting up with Danny at 2, we had dimsum, so apparently when tea was written, it meant dimsum. So again we ate and caught up with what's happened over the past year and change. Danny was getting furniture delivered to his place so we were done after about an hour and a half. I hit up a few shops to find that they were all still closed. Ed had a job interview at 6 so he took off and was going to meet up with me afterwards for dinner with my god sisters. Wandering around a bit, some of the shops started to open up around 5:30 to 6, so I ended up picking up a few more kits before heading back over the harbor for dinner with the god sisters. I get there a bit early, dinner was scheduled for 7:30 and I was there at about 6:45. I wanted to be a little early so that I could cool off and now show up a sweaty mess, but 45 minutes is a bit too early. Local caches were a bit too far for me to wander, and the phone's battery was starting to get pretty low. Dinner was pretty low key, Ed showed up around 8. We hung out until about 10 and called it a night. The parents were home tonight, so I told Ed that I needed to head back to at least spend some time with them. Here are some pictures of a Gundam capital ship made from legos, pretty impressive.
I get home and have some soup and chat with the parents for a little bit and start organizing my luggage for the trip back home. I have effectively filled the larger suit case with nothing but purchases. I'm quite impressed with this, as I didn't really think I'd need to pull the one luggage in another trick for this trip. Packed up with the next day's clothes set up, I crash out.
The following morning, I head out and again meet up with Ed. The goal for the day is to get some caches. It's been a few days and every cache I've encountered was just near impossible to accomplish as there were too many people around. I have mental notes of most of the missed caches that I will try for the next trip out. First we hit up the Dragon, and Ed actually find the cache. Well, sort of. I find the real cache and showed him what it was, but he was damn close and some other cacher must have placed the item that Ed found. Lunch was up next so we dropped into the first roast meat place for some roast goose and pork belly. Nothing to write home about, but it filled us. After lunch, we went off to the little park in the middle of the highway system. While searching, I felt some small stinging bites and realized I was feeding the local mosquito population, so I gave up the search to Ed's questions, and when I told him why, he looked down and saw that he too was feeding the mosquito. So off we went stopping here and there to itch our feet and count the number of bites. We headed for a virtual cache, I emailed in the answer, took a picture, then logged the cache. It was late afternoon so we headed out to the local expat bar, The Pawn, for some beers. Not a bad place, you completely forget that you're actually in the middle of Hong Kong here. This was Ed's first visit as well. We chat a bit about family life and such, then head back to the MTR station and say good bye until next trip.
I head back to Tsing Yi and on my way out, remembered that I needed to pick up some packets of peach scented wet naps for the wife. Hitting up the local Mannings, I find that there is one packet left, so I grab that and one packet of the rose scented and leave. Pulling up the trusty phone/GPS, I find the next closest Mannings and head over. I tempt the thought of finding another cache, but looking at the map, I realize that they are in parks, which means vegetation, which means mosquitos, and I'm not dressed for the occasion, so another mental note, next time – perhaps in winter. I get to the other Mannings and clean out their stash with 11 packs of the stuff. The staff look at me quizzically, but I pay and leave. Find the nearest bus stop and get on the 249M towards home. Getting home, I take a quick shower, finish packing, and Jeff's arrived. He takes us to a local restaurant that is known for roast goose. Heh, ironically, it's roast goose day. This place is MUCH better than the one I took Ed too earlier. I fill myself and then get dropped off at the airport. I get through immigration and customs in short order and have plenty of time to waste. I drop by the Tsui Wah for one last mikly bun and a lemon tea, a fitting bookend to my trip to both Thailand and HK.
Not a bad way to end a successful business trip.