Yes, it is that time of year again, summer's begun only a few weeks ago, stands selling nerfed sticks and tubes that explode when mixed with fire; it's coming up on July 4th, and in Los Angeles, it's Anime Expo season – at least for the next four days. My involvement with the convention has dropped considerably. I go to say hi to friends, check out a few new animes, and to enter the regional Gunpla Builders World Cup competition for North America. More information can be found here: GBWC 2013 @ Anime Expo or the distributor's page with information about all the regional competition locations: North American GWBC 2013
However, the main reason I attend is for the Gunpla Building Workshops that I've been presenting for the past 6 or so years. This will be the 7th year, I believe that I've been presenting. Granted I usually try to add new materials to the presentation, but the basics will always be the basics. Some of the jokes are rehashed, but with such a niche genre within the realm of model building or even the anime world – especially here in the US; I work with what I have, which isn't too bad. Other places in the US have it much worse that we do – as far as our hobby is concerned, so I cannot complain. Last year, my workshop was scheduled for 9 or 10 PM and when I walked into the room, I learned that they had turned it into an 18+ workshop/panel. Apparently, they've gotten tired of defending me against the hoards of complaints for my colorful use of language, innuendo, and just dark comedy. Yes, such complainers exists at a convention where scantily clad cosplayers seething with sex and the latest 4chan memes all but rule with an iron fist. Regardless, it was funny to see a gundam model building panel rated at 18+.
This year, I was contacted earlier and compromised, I had both a G-Rated Gunpla Building Workshop as well as the 18+ adult version of the same/similar Gunpla Building Workshop. The G-rated one is schedule for 12:30PM on Friday, July 5th, while the 18+ rated one is scheduled for 7:30PM on Saturday, July 6th. I'm debating on a slight format change, but as the dates draw near, I'm becoming more and more skeptical that it'll work. I need a pro-active and engaging audience, but I'm used to improving my way through most things so I'll make the necessary adjustments. The workshops also present a great opportunity to plug the shit out of this year's Southern California Gundam Model Competition (SCGMC)
There should be a decent group of "Those Gundam Guys" wandering around the convention. Hopefully there will be some good entries into this year's GBWC event. The third reason for this post is a small little teaser for what I'm planning on entering this year. I've been working on the project as well as snapping pictures away as progression continues, but have been holding off putting together a complete work in progress for the project as I wanted to have some sort of element of surprise. Granted the builders around me, some forums here and there, and TGG's FB page have had much more of a taste than what I'm posting here; but the serious behind the scenes work is still all on my computer and camera's sd card. Here's the project as it was a few weeks ago: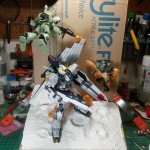 I only have some finishing touches left on the project and should be done with it tonight or tomorrow at the latest. So if you're in So. Cal and build or are a fan of Gundam models – come out to Anime Expo, check out/enter the GBWC competition, and come to one or both my workshops. Please DO NOT BE SHY, come up and say hi to me!