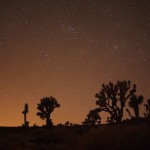 The memorable points of this weekend was an evening back in Joshua Tree and a few hours of work on the giant Unicorn Gundam statue. So the recent addiction is trying out astrophotography, well as much as that's even possible with my current setup. The weekend before this past one, Yuki and I drove up to Joshua Tree as a scouting mission to see about snapping some pictures of the dark sky. Funny thing is that the last time I was out in this area, I was riding along with MarkW as we ventured out to Jame Zee Doyle's (aka JED from old model building RAAM/CoM sites) house to pick up some kits that he was no longer going to build. MarkW's Sazabi original owner was JED.
While there was no moon to saturate the night sky with lighting, there was however lots of clouds that worked to reflect the lights from Palm Springs effectively. The goal to snap pictures of the night sky turned into just snapping pictures of the land, clouds, and my car in the calm desert night. The good thing is that I did get some more practice with nighttime photography. This weekend we were a little more successful.
Checking the weather, the sky was going to be clear. The original plan was to meet up at my house around 8:30 and head out to Joshua Tree. Angel, Nicky, Jenn, Ed, and Nicky were on the roster. I didn't get off work until about 9:00pm, so I got home around 9:30. Skipping out on dinner, we just hit the ground running. Jenn and Ed piled in with Yuki and I in the scooby and Angel and Nicky along with Tyson borrowed the CRV. The drive up was windy, but according to the weather, the winds would die down as the evening progressed. We stopped by Morongo with the hopes of grabbing some food, but I just ended up getting gas and having everyone do a quick restroom break.
I had found a more paved road that lead to Covington Flats, so I tried that out, but in the darkness I ended up finding a rather steep spot that freaked out Yuki. I had Angel back up and I backed away from the fairly steep sudden decline and I navigated us onto La Contenta towards the road out to Covington. I had to make a few pauses to get my bearings, but we found the fork towards Covington and headed in at a fairly high speed. The scooby is totally built for such roads and having scouted the place out the previous weekend, I was traversing the winding landscape at 35-40 miles per hour – which is pretty fast considering the total darkness. I'll definitely have to try this place out in daylight. But the ride in was damn fun. We skipped out on the first turn, and on the second fork, I took to the right towards Eureka Peak.
The peak was very windy. But it gave an amazing view of Palms Springs as well as the night sky which was clear. The wind was way too strong at this area for any successful night pictures, so after Ed took his piss (in the direction of the wind) we headed back down to the last fork and took the left fork into the middle of Covington Flats. The wind factor was significantly reduced here, but every now and again, we felt a strong gust. The tripods were set up and we started snapping pictures. Facing south, the lights from Palm Springs worked to give the pictures a soft orange swath that separated the earth tones from the blue skies.
There was considerably less light pollution facing north, so pictures didn't have the lower orange horizontal glow. I snapped a decent picture of my car as well.
We ended up staying here for about 2 hours or so. I would have definitely stayed longer but I was concerned with getting the group back. Folks were cold and sleepy. I'll definitely come back when there is no wind as well as no moon so that I can stay much longer and snap some star trails. I started to, but got impatient, especially with the sudden gusts of wind that worked to jostle my poor camera and tripod setup. This trip worked to give me a great deal more ideas for what I want to try out next time. Here's a 3 minute or so exposure picture. Next time I'll do a 30 minute to 1 hour long exposure and see what I get.

I would love to have a motorized equatorial mount for snapping long static exposures, but then I would also have to invest in a decent telescope with attachments to my camera. My hobbies are already too damn expensive, so I'll just have to live with what I can do with my current setup. I've still go so much more to learn and experiment.
On to the wooden Unicorn statue. Dan (Funaka) sent out a mass email to thosegundamguys letting us know that the Unicorn was back at his house. We have been tasked to fix and refinish the sucker for this year's convention circuit, for which the first one is set to be in Los Angeles around early March. First steps is to sand down the rough spots and remove excess yellowing as well as the decals we added. Three power sanders were employed and by the time I got there, most of the sanding was completed, and I was only about 40 late.
I grabbed a sanding block and some 150 grit sand paper and started in on the detail areas that the power sanders couldn't reach. We were close to done after about an hour.
The original goal for the day's work was to get the sanding down. We were done fairly quickly, so I headed out and picked up three cans of rustolium automotive primer. We blew through the three cans on the main body and the left arm, so I went out and picked up another 4 cans. This should be enough for any fixes where we need to patch, sand, and respray the primer. It shouldn't take us too long to get this project completed.
After the second set of primer cans, we were done. Next weekend will probably get the metallic red painted onto the sucker.