It has been a good minute since I last posted anything. I think that last time I posed up something was the end of September 2020 for the ST Tortois kit from the 80's. Shortly after that post, the wife and I packed up Bob and Ken and headed off to Yellowstone/Grand Teton for a week.
A few days after coming home, I started showing signs of Covid-19 and 7 days in, it got full blown and I had to stay at the hospital for 4 days while they injected me with all sorts of drugs and did daily blood draws. Not fun, but I fully recovered after a few weeks. Then it was on to Thanksgiving, Christmas, and New Years all back to back with nothing new. Well, right before Christmas, the wife and I went RV shopping. From my experience getting the kungflu and seeing how easily folks in Class B's were doing in Yellowstone; we decided that we wanted one.
Apparently lots of people are thinking along this line and it is pretty difficult to get our hands on one. We were debating between the Sequence by Thor or the Travato by Winnebago. They are both built on the Ram Promaster 3500 chassis and are fairly similar with the two floor plans we narrowed our decisions on; the Winnie 59G or the Sequence 20K. We ended up picking out the Travato 59G a week before Christmas and was told that a model we wanted would arrive sometime in January. We dropped 5K as a deposit and did the fun paperwork and then just waited for a month before getting called by the dealership to go and pick it up.
More about this and tons of pictures from the last few weeks after the jump.
Happy new year's and 30 days into 2021 we scheduled to pickup, orientate, and drive home with the new Ram Promaster 3500 converted to an RV by Winnebage and labeled the Travato.
So how much did this thing cost? Negotiated selling price before taxes/license/fees: $113K. Yeah, expensive. The same Van last year at this time could negotiated for about 80-85K. Hell, folks that bought this van last year are selling it after using it for several months to a year for 90-95k. This is a covid effect; the demand is high, the manufacturing was affected so output was dropped, etc. On a side note, we did negotaite the Sequence to about 80k; but we opted for the Winnie T.
Back to pickup day; the orientation wasn't all that great as I had done a decent amount of research and lurking on a Travato FB group. Getting ideas for improvements and such (which will be covered in some fair amount of detail later). But we go through the rig with our checklist and only find some minor issues and noted this before we signed off on the thing and drove off. It fits perfectly at the side of our driveway.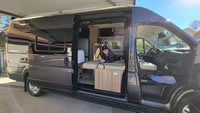 Inside, behind the cab, there is a table, a seating area that works for two additional passengers, a galley with two gas burners, a fairly decent sized fridge and seperate freezer. There is a TV, a wet bath (toilet and shower combo – folks living in HK are used to this idea), and the fold down murphy bed. Bob's checking things out but hasn't ridden in it yet, so that'll be another fun experience.
One of the main reasons we decded on the T was for the puzzle bed that is composed of the seats and table behind the cab. This works as a second bed and also works for Bob and Ken's traveling hang out area.
First night out, we drove it out to Torrance and had takeout from Red Rock. Torrance is about 25 or so miles form the house and the T worked as a mobile dinner. Bob's not happy he didn't get any beef. Our leftovers went right into our fridge. The corgi's really didn't like traveling in the RV. Too many strange noises as we drove. The wife and I hope that they'll get used to it.
The next day, we decided to do some shopping for the RV and brought along Bob and Ken to continue to familarize them with driving with us. They're still not comfortable at all, and just crowd us in the cab area. And become hyper anxious when either me or the wife leaves the vehicle.
At night, while messing around with the RV a little more, I discovered the switch under the rear view mirror. I just though it was the toggle for glare, but it was actually a switch that turns on the rear camera and the mirror is actually an LCD screen that shows HD quality video of everything behind the RV. I do some research and this is a new option for the 2021 Ram Promaster Chassis. Good thing we waited, not all 2021 Winnebago Travatos were built on the 2021 Promaster chassis. This make the thing amazingly easy to drive.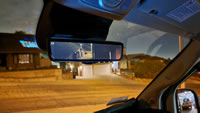 Next modification was to add in a cell modem and wifi router. The modem fits nicely in the cubby behind the TV.
Convenience modification include a paper towel rack, black out curtains that seperate the cab from the rest of the RV, and a shoe rack/storage space above the entryway.
Next up, is the house power switch. This is the switch that connects the house batteries and is basically the master switch for the house for all thing s electronic. Poor design location as the boys will definitely switch things off or we may just kick it accidently. I found an STL file online and just printed it out. Cleaned it up. And screwed it into place.
Next up are the headlights. I removed the stock yellowish light bulbs and replaced them with a 6K LED light. A few panel pieces need to be popped off, then the headlight assembly is removed.
With the headlight assembly out, this gives me easy access to the headlights. Out with the halogen bulbs and in with the LEDs.
I used a high temp silicone gasket to stick an adapter piece to the headlight housing. Once set, the blub is easily installed.
Make sure the LED lights are side to side and perpendicular to the horizon.
And of course, the TGG mascot makes an appearence much to the wife's chargrin. I did add a corgi butt that I designed as well as the name for our RV (小巴) which translates to little bus or mini bus. A staple of transportation in Hong Kong. The length of 小巴 is about the same as thoes speedy green buses so it fits.
Next up is a request from the wife. The original opening holes for the plastic sliders at the bottom of the murphy bed and in the bathroom just suck. She also cut her fingers trying to use it. A few washers and some drawer hardware resolves everything.
The floors are hard, so I ordered some foam interlocking floors and just laid out some new flooring for 小巴. Now we're ready for our first overnight outing, San Mateo camp ground near San Onofre.
The corgi's are still not thrilled about riding around in 小巴, but the prospects of a small piece of aged steaks brings some smiles. Our first real meal.
Sleeping in one bed is a whole different story. It works, but may be a bit too cozy.
Returning home the next day, we picked up a few other things we felt were necessities. A toaster oven fits right into the storage area. Some RVs have an convection oven/microwave combo, but 小巴's floorplan only has a microwave. A sacrafice for the larger fridge. So an additon of a convection toaster oven works to fill that need.
The real test came this past weekend after a Chinese New Year's dinner wth my dad, we packed up and drove out to Hugh T. Osborne look out to camp for a night. We arrived at about 3AM and the place was packed. The RV parking pad was completely taken up. But, we're in a van, and 小巴 fit just fine within the lines of the parking lot spots. We opened up the puzzle bed and I slept there with a 3in foam mattress topper. Length wise, I could touch both ends with my feet and head, but I slept decently. I woke up at 6:30 for the sunrise and to snap some pictures.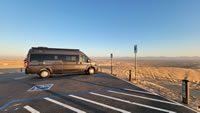 Blue hour/golden hour is important for photography. The dunes were busy all night with riders, but in the early morning hours, it was quiet and I can snap some peaceful pictures.
Here are some shots from a few hours later with the same Samsung S21 Ultra camera phone. Notice the color difference with the sun completely overhead. Definitely worth waking up early for those pictures.
| | | | | |
| --- | --- | --- | --- | --- |
| | | | | |
| | | | | |
| | | | | |
| | | | | |
| | | | | |
| | | | | |
I also fired up the drone. This is BLM land so I can pretty much do as I please. It was pretty windy but the DJI Mini2 held its own and snapped some very nice pictures.
I only snapped a few pictures as it was getting more windy as the day went.
Here are two pano shots I got with the Mini2 before calling it.
I went back into 小巴 and slept for another 2 and a half hours. Bob and Ken cuddled up with me as well. Here are some shots of 小巴's name and the boys watching us as the wife and I took some more pictures. She couldn't wake up when I did; and it was much windier now than earlier.
The next stop was Yuma AZ to pick up dog food. We actually forgot to bring dog food even though we bought a container specfically for that purpose. We had test fit the container and just left it in 小巴. So it was a short jaunt over the boarder to get some corgi food, feed ourselves, and fuel up. After this, the next stop was Tamarisk grove campground; which was about 20 miles east of Julian CA. This was a small camp site with over half the spots with cabins. The cabins have no electricity or plumbing, but works as a bunk house for sleeping.
The wife and I swapped beds and the puzzle bed works well for her. Both corgis take up half of that bed sleeping with her. If the boys would work with this bunk bed style, I think it would have been pretty nice for Yuki. I on the other hand, was very comfortable with the whole murphy bed to myself. I also tried out the shower for the first time. It is pretty functional. Yuki learned that there was a switch that turns on the drain. She started freaking out and thinking that the grey water tank was full because the water wasn't draining when she used the shower. More learning and familarization. The last picture in this set is takend when we got home and Ken was excited to leave 小巴 and go home.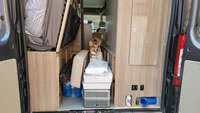 Prior to our trip, I had ordered a replacement faucet for 小巴's bathroom. The faucet arrived on Friday while we were camping outside of Julian with absolutely no cell service from T-mobile or Verizon. So this mod would have to wait until we got back. And after actually using the original faucet, I'm glade I pulled the trigger on this mod. The original faucet is full on plastic. Every bit of it was plastic. Which meant it was difficult to use as an actual faucet. Difficult to use to switch to the shower, and just all around crappy. First step is to remove the cubby to give access to the bottom of the sink.
Once the crappy plastic og faucet was out, I have two holes. Instructions for the new fauct and where the hot and cold go are not intuitive so I need to pay attention to the instructions. Also, the new faucet's fixture does not fit in the existing holes. I used a step bit (unibit #9) to open up the holes to the proper size.
Threading in the new lines and connecting everything didn't go as smoothly as the pictures depict. I did run into some issues with plastic bits on the new hot water line that was blocking water causing a leak. But other than this, everything went together fairly smoothly. With the faucet using only one hole, that left an unplugged hole. Anticipating this, I ordered a soap dispenser, and after widening that hole, installed the dispenser to complete the modification. Putting the cubby hole back into place and applying a silicone sealer around it finishes the project.
Now I think we're ready for a longer trip! This thing is pretty damn cool.