The Southern California Gundam Model Competition had come and gone. There were a great deal of new changes for this year's event. For the most part, the show was a great success. Our attendance increased from about 170 to over 250 people coming to the event. Our model entries increased from 113 individual model entries to 151 model entries. This definitely makes this show the BIGGEST GUNPLA Contest in North America. We would like to thank all those that came out to the show this year! The skill level has vastly improved. We added 4 more vendors this year. Our raffle prize wall was damn impressive. And we were very successful with our t-shirt sales. Again, thank you all for making this such a great show!
But as with all things, this was far from a perfect show. We (Those Gundam Guys) SERIOUSLY FUCKED UP. At the end of the day, this is still a model competition, and that's where we messed up. There's no other way to say it; and there's just no excuse for screwing up on this level, especially after 5 years. What happened? We screwed up the awards for the 1/100 Alternate Universe, 1/144 Alternate Universe, AND Best Of Show Awards.
We hope that the community can forgive us for the screw up; and we're already working on fixing the problems that lead up to the mistake. And we are also working on fixing the mistake we made by find the appropriate winners and sending them their rightfully won awards. We make no promises that we won't screw up in the future, but we want the community to know that if we screw up, we own it, and will do everything within our power to make it right.
Read more about this year's SCGMC and about or snafu(read: trying to explain ourselves) after the jump.
Just to get it out of the way; we have a pretty strict judging guideline that we have posted here: SCGMC Judging Guideline We also try to use 3 judges for each category. With 151 entries, this becomes a bigger task to fairly judge each entry. The judges run around and enter their numbers into our judging form. The form auto calculates the winners. It is as simple as that; so how the hell could we screw up? A combination of being overwhelmed by the number of entries, fatigue, and scheduling led to this screw up. We had the room until 5:00PM, and at 4:00, we were still putting together the winner's slideshow. Additionally, our head judge didn't have time to double check the results; so in short, we just drop the damn ball.
Our judging sheet correctly tabulated everything, it was just misread. Below is the full numerical calculation along with the entry IDs and entry names for this year's winners: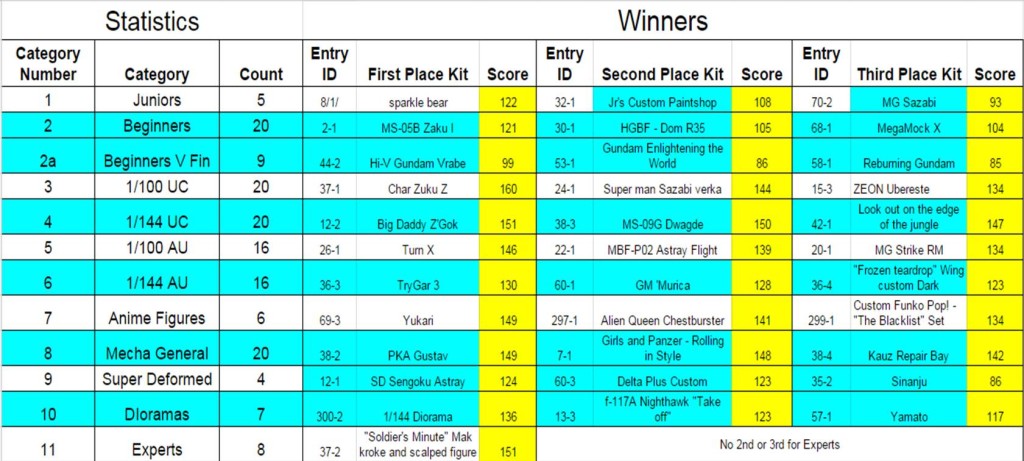 We have resolved the Best Of Show and the two parties involved are very accommodating and for that we sincerely thank Cyril Zabala and Heng Wang for their understanding. As for the rest of the winners, those that got coins will keep their coins and we will be sending out the appropriate coins to the appropriate parties.
I'm still in the process of collecting pictures and the gallery is here: SCGMC 2015 in Pictures This gallery will continue to grow in the next few days as we recover and get some time to collect more pictures taken from the show.
This year's winners, after all the corrections:
Juniors
Beginners
Beginners V-Fins
1/100 UC
1/144 UC
1/100 AU
1/144 AU
Anime Figures
Mecha General
Super Deformed
Dioramas
1/144 City Diorama Theme

Experts

Best Of Show

Again, the skill level has drastically improved from the previous year. This fact also made it much harder to judge as it starting to come down to splitting hairs to differentiate one kit over another. The works overall were very creative and very well executed!
This year we tried a few new things as well, that while in theory, is a great idea, but it wasn't thoroughly vetted. But you learn nothing without trying; so we'll definitely work on some of those new ideas to improve on them. One of these was the live broadcast. I don't know of any model contest that does something like this. But we have the ideas; just gotta work on the execution. In lieu of our poorly executed live broadcast, Michael De Mesa (Meadeslemicah), one of our long time patrons from Northern California film and edited the show; so from his perspective here's his camera lens:
We hope the folks liked the new venue location over our previous years. We're definitely fitting in comfortably, but I hope we continue to grow so that we need to find another location! For now, we're tentatively set to host SCGMC 2016 at this location. The tentative date is November 12, 2016; so set your calendars, you have a year to build and take the time off to ensure that you make it out!
And out theme for next year is Build Fighters. We will go more into details about it as the year progresses; but the basic idea is to build a kit as you would find in Build Fighters (no scale limitations). We will be using a tournament bracket to determine the winner. Again, the details are still being worked on, but that's the idea for next year. It will be one on one challenges until we crown a SCGMC Build Fighters Theme Winner!