This last month has been a busy one; and time is flying by so fast; where the hell did summer go? Oh yeah, I spent a week in Santiago, Chile, it's winter down there; but still, time seems to be on fast forward. We're about 2 months away from this year's Southern California Gundam Model Competition! Are you ready?
This is our 5th year of the competition; and with that, we have a much bigger venue. So for those that have attended previous years'; THE VENUE LOCATION IS DIFFERENT THIS YEAR!!!
Grand Hall
Fullerton Community Center
340 W Commonwealth Ave
Fullerton, CA 92832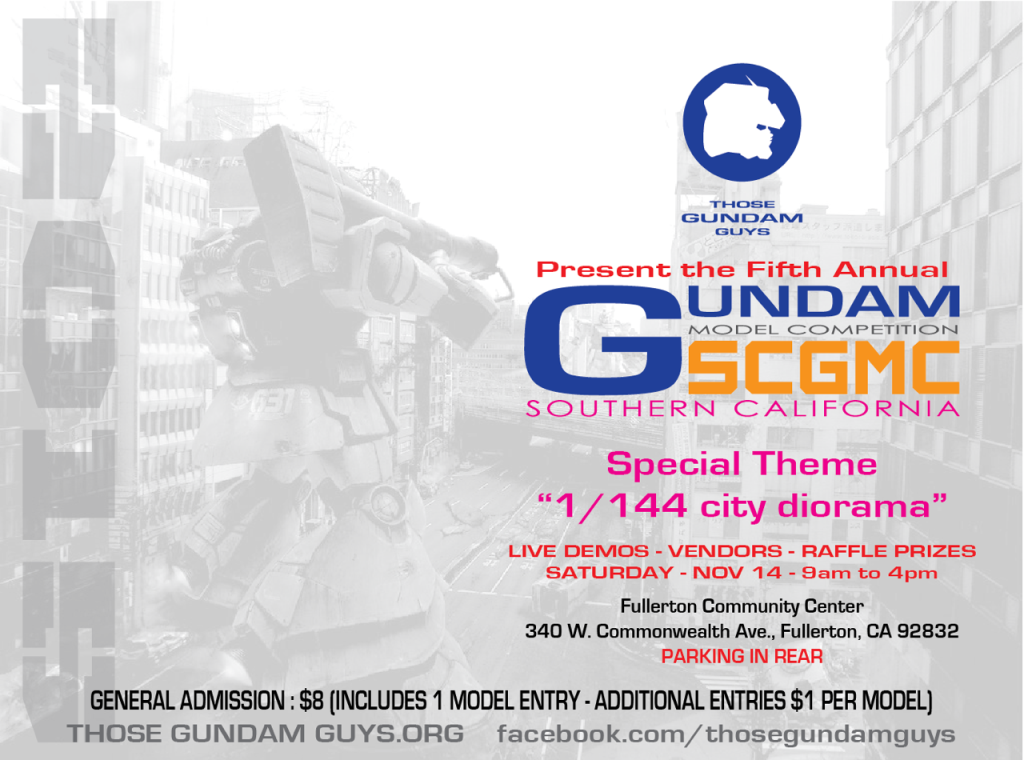 I'll try to cover everything about the contest in this post, so this will be pretty long. But to make things a little easier, I'll have the bookmarks below that will click to the specific topic area.
SCGMC 2015 T-Shirts
SCGMC 2015 Categories
SCGMC 2015 Judging Guideline
SCGMC 2015 Forms
SCGMC 2015 Live Demos
SCGMC 2015 Vendor List
We also do a Live Gunpal Building broadcast bi-weekly (every other Tuesday at 7:00PM PST) And we have a broadcast scheduled for tonight (September 8, 2015 @ 7:00PM PST) So feel free to ask any questions about SCGMC during the broadcast.
SCGMC T-Shirts!
We did a reprint of the popular blue Feddy shirts, and now have some smalls and 2XLs along with replenishing the mediums we had sold out of in July. Click on the TGG Store link above and help support the Southern California Gundam Model Competition by picking up one of these damn cool shirts!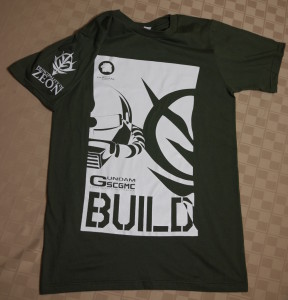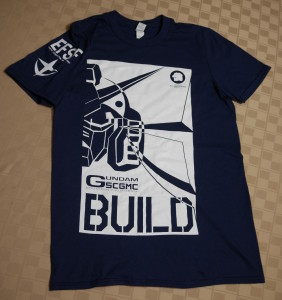 SCGMC 2015 Categories
The Southern California Gundam Model Competition is spread over 11 categories from which the contest judges may expand, split, or remove categories depending on the number of entries for a specific category. In addition to this, every year there is a special theme category; and this year's special theme is the "1/144 City Diorama".
There will be two special awards, the theme award and Best of Show award. For the other awards, we hand out challenge coins. Black represent the 1st place, silver for 2nd and bronze for 3rd.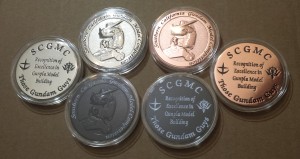 | | |
| --- | --- |
| Category ID | Category Description |
| 1 | Juniors 12 and under (all scales, all subjects) |
| 2 | Beginner (all scales, all subjects) |
| 3 | Adv 1/100 and Larger Universal Century |
| 4 | Adv 1/144 and Smaller Universal Century |
| 5 | Adv 1/100 and Larger Alternate Universe |
| 6 | Adv 1/144 and Smaller Alternate Universe |
| 7 | Resin Anime Figure; |
| 8 | Mecha General |
| 9 | Super Deformed |
| 10 | Diorama |
| 2015 Special Theme | 1/144 City Diorama |
Junior 12 and under
All scales, all subjects
Beginner
All scales, all subjects
Intermediate/Advanced Level
1/100 and Larger Universal Century – 0079, 0080, 0083, CCA, V Gundam, F91, Unicorn etc
1/144 and Smaller Universal Century – 0079, 0080, 0083, CCA, V Gundam, F91, Unicorn etc
1/100 and Larger Alternate Universe – G-Gundam, Seed, AGE, Gundam00, etc
1/144 and Smaller Alternate Universe – G-Gundam, Seed, AGE, Gundam00, etc
Resin Anime Figures
Mecha General – Macross, FSS, Votoms, Linebarrels, Mospeda, etc
Super Deformed – any giant head, small body SD kit from Macross, Gundam, FSS, etc
Diorama – 2 or more kits on a base that tell a story
2015 SCGMC Theme – 1/144 City Diorama – Using the above guidelines for a Diorama entry, but with restrictions to 1/144 scale and city scape.
Expert – All scales, all subjects
One entry per person
The only award for this category is your name and the name of your entry on a plaque we bring to the show. This is a winner take all category, and we welcome all who want to compete at the highest level of model building. Winner of this category is eligible for the Best of Show.
SCGMC 2015 Judging Guideline
This is a general breakdown of the point system we use. Please keep in mind that this is a suggested guideline that we have our judges follow, and since model building is so subjective, the exact criteria each judge follows will vary.
We use a point system with a maximum points of 60 – so if there is a perfectly build kit, it would get 60 points. From here, the first two sections is a demerit system, each kit starts off with 40 possible points, and for each issue, points are deducted. Again, this is just a guideline that our judges follow, the specific point values will vary from judge to judge.
Construction 20 points
-10 for seams, completely ignored seam work
-2 for glue marks
-2 for uneven sanding, surface scratches
-2 visible nubs
-2 for visible seams, seams that were obviously attempted, but lacking in execution
-2 visible gaps
Finish 20 points
-10 unpainted
-2 uneven/messy paint
-2 uneven paint tone (obviously unintentional)
-2 visible brush strokes (obviously unintentional)
-2 decal silvering
-2 missed panel lines
After the above two judging criteria is completed, the following points can be earned. Starting with 0 point, and additional 20 points can be gained following the guideline below. Again, the exact point values will vary from judge to judge.
Technical/Modifications 10 points
+1 electronic modification
+1 minor physical modification
+1 mobility modifications
+1 for OOB(using nothing else but what comes in the box and sticking with the colors recommended in the manual – seams and everything else must be done however, it's not bonus points for snapping)
+2 resin kit/resin conversion kit
+2 working on older kit, pre 1990 or so
+2 major electronic mods
+2 major physical modifications
Presentation (kit presentation, base, posing, etc) 10 points
+1 dynamic pose
+1 base that isn't just a unpainted plastic stand
+2 well done weathering
+2 well done ultra glossy finish
+2 well done diorama
+1 well done battle damage
+1 well done clean build
Although this guideline may sound harsh, the ultimate goal we at ThoseGundamGuys want is to get everyone building better, increasing their skills, creating inspiration, and just pushing the envelop for challenging one another!
SCGMC 2015 Contest Forms
These forms will be available at the event. Entrants are welcome to fill out the forms, print them, and bring them to the contest. But again, these forms will be available at the event.
There are two forms; the Entry form (1 per person) and the Model Entry forms, 1 for each model. So a person bringing 3 models will need to fill out the Entry form that lists all the models and the name of the entries, and 3 Model Entry forms one for each model. The Entry form is part of the registration is needs to stay with the registration desk. The Model Entry forms need to be placed under/near the entered model. There are models that folks bring that are not entered into the contest. The judges will only judge models with Model Entry forms.
SCGMC Contestant Entry Form (one per entrant)
SCGMC Model Entry Form (one form per model)
SGCMC 2015 Flyer (pass the word out to your friends that build gunpla!)
Live Demos
One of the things that we try to do to set us apart from other similar events is to do live demos for techniques. We have our standard Airbrush Demo where participants get hands on experience using the airbrush; which helps demystify the whole fear of using the airbrush. This year we will also discuss diorama building since our theme for the year is the 1/144 city diorama.
Live Hands-On Demo Schedule:
Airbrushing 101 10:00AM – 10:45AM
Hand Brushing 101 11:00AM – 11:45AM
**Diorama Building 1:00PM – 1:45PM
Pigment Weathering 2:00PM – 2:45PM
**Note: Diorama building is a presentation and not hands on demo.
Vendors
Since we have a new venue, we have more space for more vendors and this year we welcome back R4L and TatsuHobby; but will also have a few other vendors that broaden the scope of our niche little genre. We are still filling out some of the vendor spots, but confirmed are as follows: