After weeks of no progress, I had been waffling between making an elaborate base for the kit or just displaying it simply, I finally resulted in doing a simple base. The plans I had would have hidden the kit or taken away too much attention from all the work that I had put into the sucker. I still had issues with the decals. I have no idea what it is, but something is reacting with the decal/decal setting solution/alclad. The difference from other kits is that I'm using the alclad hot metal red, and I believe that the paint is a bit on the delicate side. Regardless, I had spent enough time redoing parts and running through too many sets of decals. So screw it, time to focus on other projects without having this stupid thing loom over my head.
At the end of the day, the sucker has 28 LEDs wired throughout the kit with the power supply and switch assembly inside the crotch area. The chest was reshaped. The shoulders expanded and some interior details were added. The fuel tanks were extended and some detail was added over the tanks. The arm thrusters were cast with LED to create the small light up thrusters. The waist cables was completely replaced with an internal structure wire, wrapped magnet wire spring, and metal collars that fit over everything. The mono eye was modified added a small metal collar as the eye and inserting a small green LED to light the mono eye. The bottom of the feet were drilled out to add in some thruster details as well as an LED. The leg thrusters and waist thrusters were modified to add in LEDs. The backpack thruster pack was modified to add in three LEDs.
I thoroughly enjoyed the build, but not so much the labor and amount of rework required for ultra glossy finishes.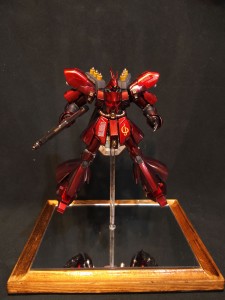 The rest of the completed pictures
For the complete build progress, click here: http://gamerabaenre.com/?page_id=1307