Getting down to the home stretch for this project. This weekend saw work on the base. The base is from Michaels and is unfinished wood. An example of what the wood looks like in comparison to the finished base is the first picture. The unfinished wood is sanded down. Once sanded down, it is stained with an ebony stain. Allowing that to dry, the base is sprayed with several layers of clear gloss. After several layers, the final layer is sanded down with high grit sanding pad to smooth out all the rough edges frozen in the cured clear gloss. A final clear gloss leaves the base in a ultra smooth glossy finish.
Most of the parts are curing after final detail painting and have been sprayed with clear gloss on some pieces to prepare those parts for detail washes. The other pieces are sprayed a final clear flat to finish them.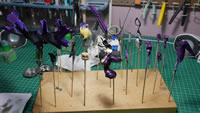 More after the jump.