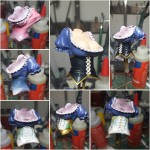 Work continued on Yukari with a sewing machine.

Returning shorly to the previous post, the leg parts were cut to remove the shoes as well as the upper thigh. Instead of painting on the leggings, I decided to sew some nylon mesh material together and effectively have real stockings on the kit. The mesh materials is measured against the painted legs and cut into strips. The mesh is then held together by some pins and sewn together using an elastic stitch. The excess material next to the open end of the stitch is cut away. This end of the stitch needs to be hidden, so the mesh tube is flipped inside out so the excess is on the inside. Once flipped, the mesh tube is slipped over the legs. Cutting away the upper thigh and the shoes makes it easier to put the stockings together, since the upper and lower areas do not need to be carefully cut and glued.
Once the legging are in place, the shoes and upper thigh pieces are glued together and the lower torso and legs are done.