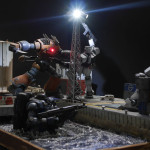 Going back to school
It's been a few weeks since I finished the Sucker Punch diorama; so I've had some time for the thing to marinate. I asked my friend Jason, who's an artist by profession and went to school for such what he thought about the diorama. We started building gunpla together when we were young, so there is familiarity with the material. I had gotten a few comments, some rather long and intense about the posing in the diorama. And having recently finished it; I wasn't really in a position to defend or analyse it at that time. And I also believe that pride has a great deal to do with this as well. It is very difficult to take criticism on a piece of work one makes. We tend to go on the defensive more often than open up our minds to view things from other perspectives. This is all fine and well if you're building for yourself and no one ever sees your work. But once you post it up publically, or enter competitions; then things change. You're putting your work out there to be judged – regardless of if you asked for it or not. And when I first posted the work online, I completely dismissed the comments that criticized the work.
Now that a decent amount of time has passed, I believe I am ready and can objectively revisit the work. So the question I asked Jason is what he thought about the pose – Zogok punching Cold Climate GM. On a personal level, it didn't really sit well with me either; but I was having trouble formulating what was wrong. I tried a few things suggested online but nothing clicked. I needed to go back to school. I didn't know what was bothering me about the kit the more I looked at it.