Summer is in full swing and it is time for a little group build fun. Your mission, should you choose to participate, is to first get an Entry Grade Nu Gundam kit. I'm starting to see them at local shops and readily online. Once you have the kit, hold on to it and wait for the start date.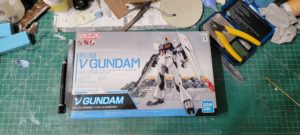 General rules:
What you can/must do
Must build an Entry Grade Nu Gundam kit
Must start on (tenative) Aug 1, 12AM your local time and end August 14 11:59PM your local time 2022
Can cut and sand
Can use everything inside the box
Can paint (no primer)
Can scribe the exiting panel lines for depth and definition
Can clear coat
Can use aftermarket decals (only aftermarket item allowed)
Can use styrene glue
Can use masking tape
What you cannot do
Cannot use putty of any kind
Cannot use primer
Cannot add pla plate
Cannot scribe new panel lines
Cannot add photoetch, metal details, or resin parts (again, you can only use what comes in the box)
Pretty simple set of rules. And you will have a time box of 2 weeks to complete the kit. Everything in the "can" do rules is optional. Hell, you can twist off the parts from the trees, just snap the kit together, call it done and fit the group build criteria. But this is a fun little exercise on basic build skills. We all build the same kit, within the same timeframe, and constrained to the above rules. The no primer rule is mostly to test your sanding and surface prep skills as primer helps hide a world of hurt. This is a sub $20 kit, and it is a timed build for a specific date range. For now, if you want to build along; work on getting your hands on this kit! If you already have the kit, then good, just wait for an update on the build dates or start building Aug 1, 2022.
This is the perfect opportunity to get friends/family/significant others into building gunpla. No other clarifications of the rules will be posted, only the confirmation for the time box dates(if they change). Now order your kit online or hit up your local shop and if you want, let me know you're planning on joining the group build in the comments!