It's November, and another SCGMC has come and gone. We had another great turnout this year. We added even more vendors this year and the room was filled with all kinds of gunpla goodies from vintage kits, to resin add ons, to the latest release, to non gunpla mecha and anime figure goodness! We had folks come down from NorCal, folks up from San Diego, and even folks flying in from the east coast – Virginia, South Carolina, and Boston just off the top of my head. We changed our layout a little moving our demo area to the stage which created much more space for the entry tables as well as vendor space. Our special event shirts almost sold out too. It's great to hear people come to the show and the first thing they do is run over to the shirt table and look for this year's latest designs. It's also awesome to run into someone wearing the shirts randomly out on the streets!
Let us start with the vendors. This year, we added two additional vendors, SIMP and Toy Arena.
And they join the ranks of Modeler's Alley/Hobbyholics, Volks, RoboToyFest, Robot4Less and Tatsu Hobby.
We brought out a new T-shirt, RX-78-NT1 "Alex" to go with our Kampfer design we released earlier this year. And reprinted the Char's Zaku shirt from a few years back. Every so often, we get requests for a reprint of certain shirts and when we start to hear the outcry for a specific design from the past, we'll do a reprint. So for those that have seen our past designs and are interested, let us know! Next year we'll bring another old design back.

As usual, we had 4 different hands on and hands off demos this year. We did a basic building where even folks that were seasoned builders or airbrush users sat down and not only learned a different approach, but improved on their current skills. We had a demo on fixing mistakes, a demo for pla plating and finally, a demo on resin casting with some live resin being mixed and casted. We got some requests from folks outside TGG offering up to do demos themselves. We HIGHLY recommend this as this gets the community together and gives everyone a different perspective on what kind of skills we all use. Hopefully we'll have a even more requests for demos by us or by other groups as the year progresses.
This year we had a new experiment that we wanted to try out. As builders, we tend to accumulate a bunch of spare parts, old kits, etc. And all that adds to a bunch of space that we really ought to just throw out. But the packrats in each of us keep hoarding everything. So the idea was to get big bins of parts, kits, etc and place a set of nippers near buy and sell plastic baggies that folks can then rummage through the parts bin and clip off parts to fill the bags. I think it was fairly successful. We'll have to discuss this amongst ourselves as well as hopefully get some feedback from the community on the value of it all. I think it was fairly successful. We had a bunch of our own guys buy baggies to fill them with parts for use in scratch building and kit bashing.

Cosplayers donned on their Zeonic gear and the flag of Zeon was ever present.
Our usual stash for the raffle was piled high with goodies from paints to plushies to Perfect Grades.

It's great to see so many gunpla fans chatting with one another, making new friends, and just passing around their respective knowledge on gunpla building. But enough of all this, you want to know who won what? We had 79 entrants with 186 kit entries which is an increase from the 178 kit entries we got last year. Which is even more amazing considering that our attendance was slightly lower than last year. I saw posts from folks that couldn't make it out this year, so we fully understand that things happen, and the phrase "there's always next year" is never truer. So for those folks we missed this year, we better damn well see you guys next year!
Winners for Juniors 3rd, 2nd, 1st left to right:
Winners for Beginners:
A little note about our beginners' table. It's gotten smaller and smaller each year. Which is a very good thing to see since folks are definitely improving upon their skills as well as their own confidence that they're playing in the bigger pool.
This year, the 1/100 UC category just exploded. I believe one builder brough 32 Zeon kits alone. Damn. The judges looked at the kits and decided to split the category and have 2 second and 2 third place winners with 1 first place winner to rule them all.
UC 1/100 3rd place winners:
UC 1/100 2nd place winners:

UC 1/100 1st place winner: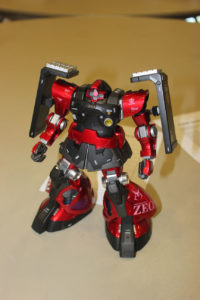 UC 1/144 category was split as well into Feddie vs Zeeks:
UC 1/144 Zeon Winners:
1/144 Federation Winners:
1/100 Alternate Universe Winners:
1/144 Alternate Universe Winners:
Star Wars
Mecha General
Anime Figures
Super Deformed
Diorama
A side note about the 2nd place diorama winner. I was later told that he was quite shocked to have placed, let alone win 2nd place and was in tears of joy when he went out to do some interviews with our staff that wanted to talk with all the winners. A few years ago, this builder had entered his kits in the beginner level and when the judges looked at the skills, they told him to move to the advanced level. He was not confident in his abilities and stated that it was his first contest ever. But he was convinced. Since then, he had taken apart his original entry and rebuilt it as the hangar diorama. To see someone get so emotional over winning at our little competition just makes it worth all the hard work the team puts into preparing for and running the show. I love stories like these.
Experts
Again, the idea of this award is that modelers will bring their best work to compete against one another not for any award, but for bragging rights and to have their name listed amongst the best SCGMC Modelers. We have a plaque for the names and we have a traveling trophy that gets to stay with the modeler until it is passed on to the winner the following year.
This year's theme was the "RX-78", and the winner goes to: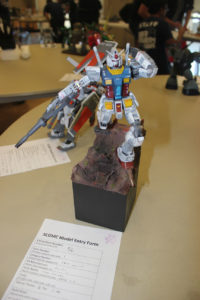 The best of show award: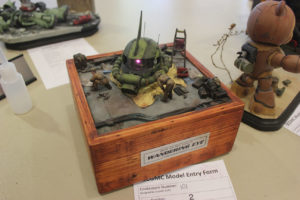 Aside from the programmed arduino board running a small servo motor to randomly move the eye, there was also a small ultrasonic humidifier that pipped steam out of the Zaku's mouth vent. This was very cool to see in person.
Again, we had 186 entries and to rough through and judge the competition is a very daunting task. Is it perfect? No, but what is? We handed out 38 coin trophies, theme award, best of show, and expert bragging rights. We split two of the categories. We would love to split more categories. Perhaps spawn completely new categories. We love to hear feedback and are constantly trying to improve the show. We should have all the pictures of the entries in the full gallery – Full Gallery Here. If you enjoyed the show, let us know. If you have ideas for demos you want to see, let us know. If you are interested in doing demos yourself, let us know. If you want to help judge the competition, let us know too! We are going to take some time to recover. We are debating on a possible change in venue so we do not have an exact date locked down. But, we know two things, it will be in November 2018 AND next year's theme is "Bear Guy". You have all year, so don't procrastinate until October to start on your kits! See you guys next year.