A quick little update for this project. I've been spending time masking off the purple that was painted. After masking, the detail lines and straps are painted in black. I use mostly tamiya masking tape. Some areas are masked off with parafilm on larger areas. Over the masking tape and parafilm, a thin layer of liquid masking is used as a backup incase some of the masking tape isn't completely overlapped.
Once the paint is cured, the masking tape is carefully removed. Luckily, I did not run into issues with paint lifting. A good sign that the cleaning process worked well and all the paint layers have cured. Things are starting to progress.
The eyes are done with the decals that came with the kit. I had applied a clear gloss first over the painted skin. This allows the decals to stick very smoothly to the surface. Over the decals, mr mark softer is laid down over the decals to help melt them to the surface and conform to the surface without wrinkles.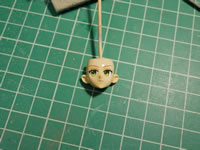 The hair was painted. The first layer was done with a light brown. Over that was a custom blond mixture. Since it was a little too white, I sprayed clear yellow to tint the hair.
I still have more pieces to unmask and more pieces to continue to paint. Progress continues. I am finally getting some decent stretches of time to dedicate to this project. There's an IPMS contest coming up on the 30th. So hopefully my schedule stays clear and I can finish this and have a figure to show at that contest before packing her up and sending it off to its owner.