RoboToyFest is an event that happens twice a year in Pasadena, once in May and then once in October. Last year, Those Gundam Guys were invited to judge their Gundam Model Contest. Not wanting to change the format, we were invited back again and due to a slight miscommunication, we didn't know about our implied invitation until last Friday. It's a damn good show and any change we have to promote the hobby we'll jump at; so we made a few posts on our Facebook page and then headed out to Pasadena this past Sunday for the event. And this also gives us an opportunity for some SCGMC fundraising with our shirt sales. Unfortunately, we didn't get a chance to advertise this show much, but since we're going to be there in October, we should mention that THERE IS A GUNDAM MODEL CONTEST!!! And it's perfect for folks getting ready for SCGMC in November, there's just enough time to put your kits out there and get some critiques from us and possibly make improvements for the next contest *cough* SCGMC *cough*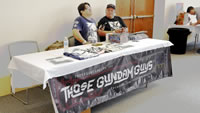 Ok, enough blabbing, onto the contest.
The RTF contest has 3 categories, Youngbloods (12 and under), Amature, and Pro. We only had one youngblood entry.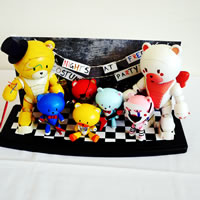 The next two kits are in the Amature level and the winner for this category was the 1/144 Gundam Barbatos.
The next two kits are the Pro level entrants. The winner for this was the 1/144 Graze.
We got to chatting with some of the contestants and pointed out some areas for improvement and discussed the impressive points for their kits. Due to the rather intimate size for this contest, it works really well to answer questions about our judging style and areas of skill improvement. So for you guys interested in SCGMC but a little intimated, come out to RoboToyFest in October and enter this contest and come talk with us about your kits.