My first real community for Gunpla building was a forum on the Child of Mecha site. This was where I learned most of my basic techniques from better seamlines, weathering, color layering, and modifications. It is also from this site that I met a great number of gunpla builders such as Bhop (Brandon), Tim, Gouf (Duncan), Khyron (Jim), Tetsujin (George), MarkW, J.E.D (James Doyle), and countless online personalities. The site sorta stemmed from the old Gundam.com foum as the serious gunpla builders wanted to separate themselves from the sea of snappers. A community of serious builders. It is here that I learned to accept criticism on my own works.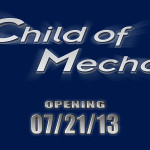 The site was born on July 21, 2002. I had already been seriously building, or so I thought, with my rudimentary knowledge of seams, sanding, and airbrushing. I was posting works on gundam.com back in those days and was invited over to CoM. It is there that I truly learned to experiment and seriously grow as a modeler. I learned how to take better pictures of my models. Which resulted in starting my own site started sometime in 2003 focused with galleries and a few work in progress pages. I even started putting up a few tutorials back in those days.
There was a level of elitism at the site. Sort of the nature of things as the site was supposed to be a place for modelers pushing the limits of their skills, sharing of ideas, etc. So those that were unwilling to learn and become better were looked down upon. Still ignorant to how the gunpla world worked, I had no idea that the hundreds of thousands of snappers were the true bread and butter of the Bandai gunpla hobby department. It is only a couple of hundred modelers that went beyond the ease of snapping, to using sanding implements, paints, putties, pla plate, metal tubes, springs, resins. The elitism got pretty bad and out of hand, in my own opinion, I think we ended up hurting the community. Though a small part of me believes that this tough love may have spurned some of those that were shunned to produce amazingly built kits that neglected seams and other standard model building practices. And possibly an even smaller number turned and starting building with all the surface prep, glues and paints.
But from that, I learned that perhaps builders just didn't know anything other than just snapping the kits together – especially those that were outside of the online gunpla building communities. And this started my first workshop for gunpla building at Anime Expo. And from that, the epiphany. I had learned so much from the forums at CoM; and the folks at the workshop only got to listen and watch various techniques. So combining the two into a physical gathering where folks can learn visually and hands on with their own models was the natural evolution. Unfortunately, July 2007,marked the end of CoM, and the site went away. But ironic as it is, CoM was born on July 21, it is also July 21, albeit 2007, that I hosted my first model build gathering, coming July 20, will be my 7th year with the build gatherings. Little did we know back then, but effectively, ThoseGundamGuys turns 7 years old sharing the same birthday as Child of Mecha. We've spurned similar types of groups around North America, and I met a member of the Vanpla group this past weekend at AX, and the folks out in Maryland that gathering on a monthly basis to sling plastic and resin fury. This all began somewhere, and for me, the true start of it was Child of Mecha.
Hopefully with the new technology making the world smaller and smaller and the connections to builders world whide grow exponentially; more and more modelers will become inspired through Child of Mecha – which will return to us on July 21, 2013. Happy birthday Child of Mecha, and to Those Gundam Guys!