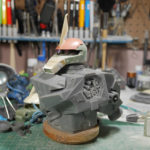 The old adage that if you don't use it, you'll lose it; is very true. I did some 3D designs for the Dom Barrage project but once those pieces were designed and printed and I spent more time with the hands-on side of things to finish the build; the 3D design skills flew out the door. Since the Dom project was fairly intense, I wanted to relax a bit and work on something simple like the Zaku Exceed head. I finished the Gundam Exceed head while in the middle of working on the Dom project as a quick break. But as I started looking at the Zaku heads and thinking more, I realized that I should keep practice on the 3D design. I needed to relearn a few things but it is kind alike riding a bike, once you get used to the balance and everything, it just becomes muscle memory. So my quick and simple project kinda blew up into a full blown custom project….converting the Zaku Exceed head into a Gouf Custom head with a full bust.
I'm getting much more comfortable with the design, but I'm still VERY novice at it so the end result isn't the greatest in terms of properly designed 3D files. This first set of pictures are the initial build progression via Blender. The basic idea is to block out the design using reference pictures I took from the NeoGrade Gouf Custom Conversion kit I built years ago. Once the blocks are laid out, details and shaping can be done.
Read more about the project after the jump!