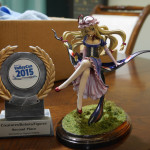 This past Sunday was the 25th Anniversary ValleyCon event. Damn, SCGMC is coming up on 5 years…. I can only hope to be as successful to get another 20 years. This year was different from the past several years that I've attended – they held the contest at the Ronald Reagan Library, under the old 707 Air Force One. Damn cool. There were also cars on loan from the Peterson Auto Museum as well as an old Marine One. We were allowed into Air Force One and Marine One, but no pictures were allowed inside. Damn cool to walk the insides of these aircraft.
It was a very impressive show. They had over 600 entries. There were alot of amazing entries and I didn't have time to snap pictures of everything because there was just so much more to see and do that the library.
Some more details and commentary after the jump.