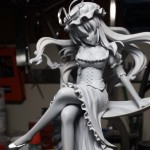 The year is almost over and I've yet to get one figure kit completed. So I rummaged through the collection of resin kits and found this partially pinned kit. The parts breakdown is pretty simple and should be a pretty quick build. So I started up the project a few weeks ago.
This is Yukari Yakumo from the doujin game Touhou Project. I have no idea what the game is about or who this character is, but a few years ago, the kit looked pretty good from one of the WF events in Japan and I picked this kit up off Y!J Auctions.
The first step is to finish pinning together the kit, so I can get a better idea on modifications areas, but for the most part, I am just building this out of the bag.