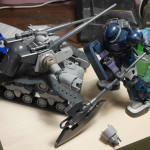 Last month, I picked up Ortega's Hi-Mo Zaku II because of that massive heat axe and because I was looking for something to snap at the January build gathering. I ended up working on the Gusion; but I managed to open this box and look at it for a few moments. I got the kit ready again a few weeks ago when we had a live broadcast, but I ended up missing that broadcast, so it continues to sit in the box. I felt the need to use the massive axe; so sticking with the Origin theme; I went out and grabbed an Early Type Guntank as a foil piece.
The Guntank came together fairly quickly as it is a very simple kit. But the thing that really bothered me about the kit are the damn tracks. The are solid pieces with the track wheels and come in two pieces which boggled my mind. There is a horrible gap, and after looking at the tracks, it seems like it is designed to have 4 treads. The kit was snapped together with the thought to do something with the treads.
The Zaku kit came together easily, but it was much more complex. A very interesting design especially for the 1/144 scale. I kind of like the chest gimmick to help poseability. But after snapping the thing together, there are some obvious areas where I will be doing some modifications.