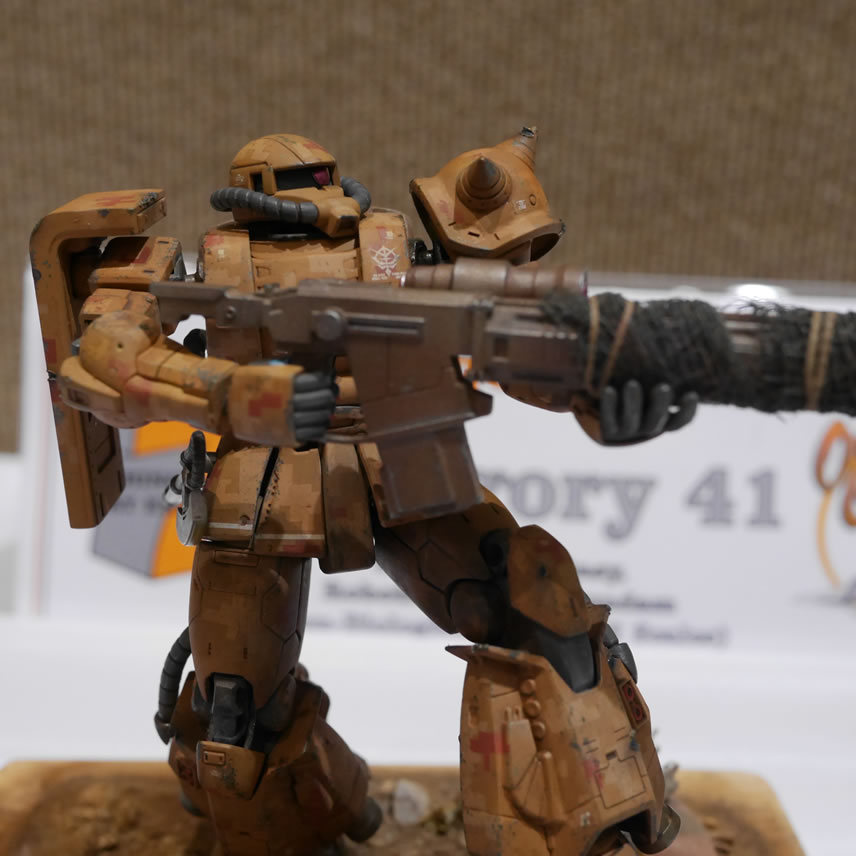 This past weekend was the annual IPMS Orange County's Region 8 Contest: OrangeCon. This is always a great contest to attend. More so now to spread the word that is Gunpla. While setting up, an older gentleman looked over at me and exclaimed, "Hey, you're one of Those Gundam Guys!" This always makes me chuckle. He then proceeded to tell me that he had met me a few years back at a previous OrangeCon with a friend of his that I had known from a previous IPMS Nationals in 2007. The guy was from Arizona and was inspired by our talk about gunpla and brought his own custom made Zaku; pictured below. Apologies for the dark pictures. SciFi is the redheaded stepchild of model competitions, so we're usually in some dark corner out of the best lit areas!

He said that he was having a blast building gunpla and was building more. He ended up winning 1st place in the Sci/Fi Mech/Gundam category – that got split into SciFi Gundam and Scifi Non Gundam. But more on that later. I chatted with him for a while and told him about our show, but he's unable to come because he lives in Tucson. Blah, people from all over the country are flying/driving in for SCGMC. But that's another story. Fellow TGG members Brandon and Jonathan came and entered their kits. They got 2nd and 3rd in the SciFi Gundam category.
More about Orangecon after the jump.