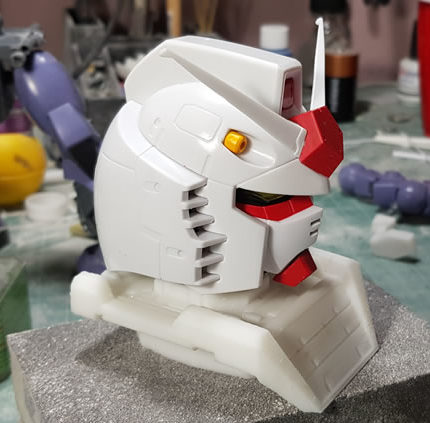 This past weekend, I saw a FB post from one of my local shops (Neo Happy Land Co) saying they had the RX-78 Gundam Exceed Heads in stock. They're selling them there for $10. Which isn't too bad a markup being that they're gashapon items from Japan. I have a few of the Zaku Exceed Model heads from my own trip to Japan, so I definitely needed to get this one as well.
Also over the weekend, a modeler that goes by Marcogunpla post up pictures of his 3D designed neck piece for displaying the '78 Head. He also posted the files up on Thingiverse. Marco printed it on a SLA printer in resin and the neck piece looks very nice. I downloaded the file and printed it on my FDM printer at .25mm and this took 3 hours. I did a print estimation for .15 and that would have taken 6 hours. I also ran a print estimation for an SLA printer (Formlabs preform software for the Form 2) and at .05mm the print would take about 8 hours. Still not too bad for the quality of print that I saw in the FB posts. The head unwrapped, the assembly is very simple. There is a chin piece and the V-fin that need to be assembled. The sides of the head pull out and you can grab the forehead piece to bring it up and the display is complete.
If you don't build/paint/etc stop here. If you are a model builder and have picked one up or are planning on getting one to mod/paint/etc; read on!