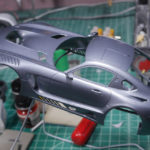 I've been traveling quite a bit for work in the past month. Hell, 3 out of the last 4 weeks were spent in Eastern Standard Time zone. So work has been pretty slow on the project. Since the last update, I've gotten some decent work done when back at home base. Starting off with the suspension. The masking for all the small bits is done and the parts get assembled. A quick test of the untouched car body over the suspension gives me a rough idea of what will be visible once everything is together. So I probably spent too much time painting things that will never be scene. Well, I haven't built a car in a while, so I'm stumbling through a good number of things.
Next up is the cockpit so to speak. I glued the roll cage together since I needed to putty up some of the attachment points. Again, things that will most likely NOT be seeable once the whole thing is put together. After the test fit, gluing, putty, and sanding, the cage as well as the cockpit tub is primed. Then placed on the recently finished chassis for a quick snap.
More on this update after the jump.