For those that don't know what SCGMC is, it's the Southern California Gundam Model Competition. This was our 6th year hosting this competition; and even though there was a big convention happening the same weekend (Pacific Media Expo – PMX) we still did quite well. We had 280 people in attendance. Of that, 87 entered the contest with 178 entries. Yes, 178 individual entries. One guy was responsible for about 17 kits. We had people travel from Arizona, Vancouver Canada, Minnesota, Seattle, and Virginia specifically for this show. Without any doubts, this is THE BIGGEST LIVE GUNPLA contest in North America. We had several live demos that had actual hands on experience with airbrushing, water slide decal application, and photography. We set up two photography booths so that once judging was done, the entrants could grab their kits and take some professional pictures of the kits after learning how to take pictures with the live demo. We had 6 vendors including ABC Toy 4 Me, Robot 4 Less, Robo Toy Fest, Tatsu Hobby, Modelers Alley Creative Studios, and Volks Hobby USA.
More details about the show after the jump!
As a group we did some analysis on how we can improve from the previous years, so we did some streamlining for the judging process. We've also added several new staffers to help out. Getting into our 6th year, we've gotten a good handle on who does what for the show, so for the most part, everything runs fairly smooth. At least, from our side of the fence, it seems that way. We tried to adjust the schedule such that things don't run into one another, but they only work as well as the best laid plans of mice and men.
The first thing we did was adjust the judging. We also invited folks that have won in previous SCGMC events to come join in as guest judges. We picked up 4 of 5 additional judges which was a great help; and from my understanding, gave these guest judges a really good insight into our judging methodology and how difficult it is to actually judge kits. That said, in previous years, our goal was to judge every entry. Last year's problems was a direct result of trying to swallow too big a bite. There was no way we could have judged ALL 178 models. So, we compromise. We have three man judge teams for specific categories, the judges individually pick out 5 kits they think are the best from each category. They then meet up and compare their picks. In a perfect world, the three judges will have the same 5 kits written down. In reality, the judges meet up and discuss from the collective 15 possible different kit, which 5 to pick. And from there, they go and judge the 5 ktis according to our criteria here. This GREATLY sped up the judging time and we were able to double/triple check our calculations before presenting the awards.
I know that I personally talked with a number of folks that were interested in how their kit was judged. Unfortunately, a good number of these folks had kits that were not judged, meaning, they didn't make it into the top 5. But, I was able to pull some of the judges from those particular categories or I went with the builder and we looked over the kit. 99% of the time, the reason a kit isn't judged is because there is a flaw in the build – seams, poor paint, missed sanding spots. However, there are a few cases where there was nothing wrong with the kit, it was perfectly built. So why didn't it get judged? Because there were other kits that were also perfectly built, but had additional modifications that boosted its awareness to the judges. I admit that previous years' SCGMC events had easier judging; but folks have gotten so good year after year, the judging is starting to get REALLY nitpicky just to differentiate the really top tier kits. Again, this is why we are so welcoming to guest judges; they get a whole new perspective, and are actually more involved in the process. At the end of the day, it helps the modeler become an even better builder.
That said, let's get to who won what.
The juniors category is for our kids 12 and under. We need to continue to cultivate gunpla modelers, what what better way to do this than get our kids involved in the hobby we all love so much? During the live demos, I saw many young kids step up and try their hand at airbrushing or water slide decal application. Careful guys, they're starting younger and younger and will soon be forced to compete in the advanced categories!
The winners for the junior category: 3rd Crossbone Gundam Raiser by Jaden; 2nd Good Guys Don't Always Win bu Brigham; and 1st Mega Charizard Y by Mei-lin
The beginner's category is for builders new to the gunpla. The mastery of seamlines, painting, weathering, decals, and even slight modifications are not quite there. The concept of shading isn't quite there. Sanding isn't quite there. We want to cultivate all modelers and give a space for folks to grow. The idea is that folks that win in the beginner's category graduate and next year, they're expected to enter the advanced categories. Over there years, there have been many beginners that have started here yet have progressed to the advanced and started winning in the advanced categories. We at TGG also have a responsibility to notice if there are entries that are marked for beginners but are obviously advanced builders. In the weeks leading up to SCGMC, I had a reddit conversation with a builder that asked what category they should enter, and that they'd been building for 4 months. Just based off that information, I suggested they go beginner. However, once I and a few other staffers saw the kit, we knew that it belonged in the advanced level because they had done airbrushing, hairspray paint chipping, and a slew of other techniques that is beyond the typical beginner. There are many cases that a beginner is putting their kits there because it's their first time competing ever… however they've been building for years. The category level determination is based on skill level. The more skills you present in your build, the higher the expectation in category level.
The winners for the beginner's category: 3rd Duel Gundam by Jordan, 2nd Scary Teddy by Jamie, and 1st Powered GM by David
The advanced levels are where the majority of the entries fight it out. The basic skills are expected at the level. Seam line work, the kit should be painted, mods will help these kits stand out in a sea of perfectly built stock kits.
Winners for Advanced 1/100 Universal Century: 3rd Crossbone Gundam X-1 by Lersak; 2nd Geara Doga by Chuck; 1st Gelgoog Cannon by Jonah
Winners for Advanced 1/144 Universal Century: 3rd Dom Tropen by Jeffery; 2nd Visitar Q by Heng, and 1st R-Gayagya Sa Nai by Tom
Winners for the Advanced 1/100 Alternate Universe: 3rd Graze Ground Maximum Thrust-x by Jonathan; 2nd Barbatos 6th Form by Nate; 1st Rise of Turn X by Derek
Winners for the Advanced 1/144 Alternate Universe: 3rd Graze Shimatsu by Jeremy; 2nd Petit'Gunkguy by Cory; and 3rd Dark Matter Grimgerde by Freddy
Winners for the Anime Figures: 3rd Ryuko by Tom; 2nd Custom Fuko – Dr. Lazarus by Su-Eun; 1st Joan d'Arc by Vinh
Winners for Star Wars: 3rd Sand Trooper by Joss; 2nd Stap with Battle Droid by RJ' and 1st AT-ST by Joss
Winners for Mecha General: 3rd Roundfacer by Heng; 2nd Kuster by Heng; and 1st Space Pirate Battleship Arcadia by Kunio
Winners for Super Deformed: 3rd SD Sazabi by Valentine; 2nd Powered GM Cardigan by Cory; 1st SD Sazabi by Britt
Winners for Diorama: 3rd Ein Was Right by Freddy; 2nd Vuter Stu ZE Mich by Joss; and 1st Zion Outpost by Heng
The experts category walks away with no awards. They get bragging rights. As Connor MacLeod says, "There can be only one!". All they really get is a name on the TGG SCGMC Experts plaque and be immortalized. This year's winner is Nate Mills with his heavily modified Zeong – that has also won best of show this year at Anime Expo's GBWC qualifier.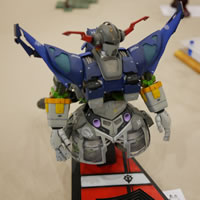 The last award is the Best of Show. This is the absolutely best built kit in the show. The winners of this category are always encouraged to submit their best entry into the Exports category the following years; so here's hope that Derek comes back next year with an entry for the Experts! Ooops, let the cat out of the bag. Well, the lead judges from the various categories meet up and look at all the 1st place winners and ask one question, "who's the best?" Some years, this takes a little arguing and back and forth and the looking at the total points, etc. This year, 5 second after the question was spoken, they had an answer: Rise of Turn X by Derek.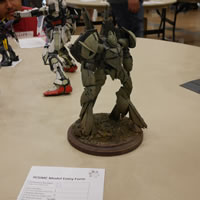 We at TGG want to thank everyone that came out to our event and are looking forward to next year. We're going to spend a few weeks to recover before we start posting up about next year's event, date, location, and special theme. As a group we spend quite a bit of time dedicated to preparing for this event; and it's getting bigger each year. To think we started off in 2011 with the cost of running the show at about $2000. It's grown to roughly $7000 to run this show. I look forward to the day that I can look back at this post and laugh at a $7K cost for running the show…
Until our next update, the folks at Those Gundam Guys (and Gals) thank you all for the continued support and to keep building!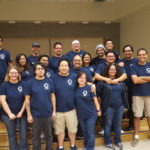 Here's the gallery for the full 178 entries at this years SCGMC: