I did a partial update post early Sunday morning for the work accomplished over the previous week through that Friday. I have day on Saturday and accomplished a ton of work on the project. So here's that bit of an update. Returning to the base itself, I started laying down the groundwork for the "water" part of the water front. I needed to lay some wires down, so I taped some wires down and laid plaster cloth over the area. I typically use plaster cloth as a start point for terrain, wrapping it around cut styrofoam as the basic shape. Here's I'm just using it as a surface prep as well as to hold down the wires. I will be adding some paper clay on top of this so the plaster cloth acts as a intermediate.
The plaster cloth is measured out, cut, and dipped into water to "activate" it. One wet, the stuff is just laid out and using wet fingers, the plaster is spread along the water area.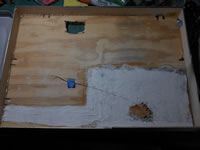 The base is left to dry. While this dries, I can focus on the two other "actors" on this stage, the Zeeks.
I've base coated this, and will be doing some masking; but for now, I have some basic colors laid down. The Zee Z is up first.
And while I sat there taking pictures, the idea to drill holes in its life jacket crept into my head. And a drilling I went. So I can add metal details.
Some frame bits on the Zogok were painted then the two halves of the main body are glued together. I couldn't tell if there is a natural seam, but it didn't look like one, so the two halves were glued together. Once the glue set, I masked off the painted internal areas and sanded the seams away. Some detail parts for the Zee Z and Zo were painted and now sit in a box after curing so they don't take up skewer and wood board space.
And here's what the two little buggers look like now. For the upcoming TGG & Friend live broadcast; I will spend the time working on masking off these two.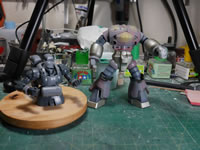 At various points in the progression, it's good to put all the players together and get a quick snapshot of how things look. Things change and so adjustments to the original plans need to be made. This should be a decent advancement from the last broadcast two weeks ago when I was also working on this project.
Here's a visual montage of the project from the planning stages and the various changes as the project progressed up through tonight as I finish writing this post.