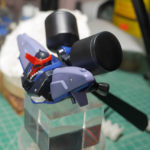 Time to kick off the new year with a project. Not necessarily a new project, but something that has been shelved for almost 7 years. I had to dig through my harddrive to find this next set of pictures. Last date from the pictures in this set is April 14, 2012. I originally stopped working on this project because the then girlfriend and I started a project to remodel our house. And since the remodel, the damn thing has stayed on the shelf. This part of the original project was about 85-90 percent completed. I had just about finished painting everything. What better way to get a quick finished kit than pull something that is almost done and just finish the damn thing up.
This is what the kit looks like now, as in after spending the past couple of days relearning where I had left off and what I was doing with the thing. ALl of this was painted but not assembled. I spent some time gluing pieces and doing more complete subassemblies.
After the jump, we'll go back 6 years and 9 months and do a little catching up.